< Back to Search Results
Cobham Explorer 727
For reliable and fast data and quality voice communication, even at high speed, choose the Thrane & Thrane EXPLORER 727, our flagship BGAN terminal for vehicular use.
Broadband-on-the-Move
Because EXPLORER 727 automatically tracks satellite positions it makes high-speed connectivity and communication possible – even at speeds in excess of 200 km/h. Run a multitude of office, security and commercial applications thanks to full IP connectivity and be 'connected to the world', even when you're in your car. Or truck. Or armoured vehicle.
Two terminals in one
EXPLORER 727 becomes an Inmarsat Class 1 terminal when at a standstill making it the only vehicular BGAN terminal that can be used with BGAN X-Stream, Inmarsat's premium IP streaming service. BGAN X-Stream provides +384 kbps streaming when the EXPLORER 727 is stationary so HD video and audio are a breeze. Even on-the-move, you can still stream up to 256 kbps with the regular streaming service.
Flexible deployment
Attach the antenna to the roof of your vehicle or place it up to 50 m away when you set up camp. Add a PoE wireless access point and the EXPLORER 727 can even be used as a WLAN hotspot. Enable your team to connect instantly. Media, government, utility and humanitarian users can improve operational efficiency through flexible deployment options and multiple equipment interfaces.
Reliable connectivity
EXPLORER 727 can withstand severe environmental conditions such as humidity, dust, extreme weather and changing temperatures, so stable, reliable connectivity is inherent, even at speed. Travel across country and never be out of touch even in the back of beyond. Say goodbye to different roaming fees when you cross borders, and benefit from the single, competitive BGAN tariff wherever you are.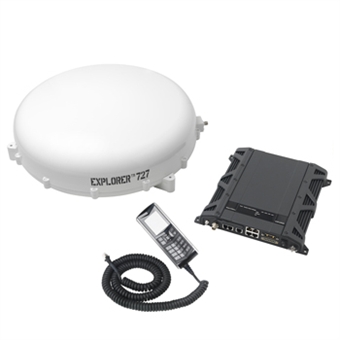 Manufacturer
PDFs
Manufacturer