< Back to Search Results
BlueTraker 2200
The BlueTraker® marine graded terminals are wireless gateways with embedded Satellite, GSM/GPRS modems, GPS receiver and back-up rechargable battery.
The BlueTraker® terminal's latest generation is offered to the market, upgrading connectivity possibilities to support remote vessels monitoring for various purposes. Terminal's ability to connect to external (Third Party) hardware is supported by integrated:
RS485 serial port
CAN bus
RS422 serial port (optional)
Two digital inputs
One relay output (optional)
To offer physical connectivity layer is not good enough, therefore BlueTraker® satellite terminals support various communication protocols like:
MODBUS RTU over RS485
NMEA2000 over CAN Bus
J1939 over CAN bus
Hybrid Communication Channel: SAT and GPRS
BlueTraker® Hybrid featureMost common vessel tracking devices communicate telematic data only through satellite networks, but leave mariners marooned paying high position reporting costs. BlueTraker® terminal reduces costs automatically and effectively, while using the low cost GPRS communication. BlueTraker® terminal can be configured according to several reporting schemes. The most economic reporting scheme is to use  satellite communication channel while navigating high seas and GPRS communication channel when navigating coastal or GPRS covered waters.
Security and safety
BlueTraker® Inherent Safety Security featureHigh emphasis was put to integrate a high level of mechanical, electrical and electromagnetic safety and security features, to avoid any tempering and fraud, as well as to mariner's safety on-board the vessel, offering IN-PORT and ALERT buttons, integrated into the ConBox wiring box. The most noticable security and safety features, next to ConBox wiring box buttons, are all integrated design, tamper detection, antenna blockage detection, unique serial number engraved into the housing, security seals and operation four color status LED.
Geozones
BlueTraker® Geozone featureUp to 100 (one hundred) geographical areas (polygons and associated rules) in the form of geo fences can be remotely uploaded, edited, activated and deactivated for each and every BlueTraker® terminal, using land based servers and over-the-air upgrade feature. Geographical areas can be defined of specific type and can include specific operational rules (e.g. reporting frequency) and also be alerted when vessel is approaching and crossing geographical areas borders.
Message data encryption and authentication
BlueTraker® Data Encryption featurePreventing unauthorized data modification, a symetric 256bit key authentification method can be used. Next to encrypting data before transmitting it, the BlueTraker® terminal prevents sending unauthenticated external data by checking authorization rights assigned to all periphery.
True global coverage
BlueTraker® True Global Coverage featureUsing Iridium LEO satellite network, the BlueTraker® terminal can report it's position, send alarm and transfer other defined reports anywhere on Earth's surface, offering unpresedented advantage to customers, tracking globally dispersed fleet. Global coverage includes Sea Area A4, Earth's polar regions.
Remote sensor monitoring
BlueTraker® Remote Gear Monitoring featureLarge variety of connectivity and integration possibilities offers virtually unlimited number of on-board gear sensors to be monitored directly from the customer's site. This enables the customer to automatically and precisely asses the fleet operational effort, processes in place on board the vessels, for each and every vessel in the fleet.
Fully approved and certified
BlueTraker® Fully Approved and Certified featureThe BlueTraker® terminals are fully compliant with the laws and regulations covering vessel monitoring systems based on the experience gained from the fisheries industry. All BlueTraker® terminals are IEC 60945 certified and comply with IP68/IP69K. The terminals have been designed to comply with the highest security & safety requirements expected by the customers, making the installation as tamper proof as possible.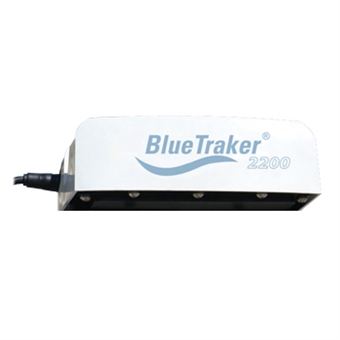 Manufacturer
PDFs
Manufacturer