< Back to Search Results
Cerberlink
Let's talk about what CerberLink isn't. CerberLink is not an EPIRB. CerberLink is not a PLB. CerberLink lets you communicate where others can't. CerberLink is for the adventurous person who looks forward to taking a leisurely walk to the middle of nowhere, but wants to let everyone at home know that they're OK.
Send your friends a message and let them know. Having fun?
Features
Record your location at intervals as short as 5-minutes.
 
Use your phone or CerberLink's GPS receiver to record your location.
 
Send breadcrumbs in real time via the Iridium satellite network or send them via the Internet when you have cell/Wi-Fi access.
 
Messaging
Receive up 1600 character messages and send up to 160 character messages.
 
Message with friends and family at home.
 
Message with other CerberLinks in the field.
 
Receive confirmation that CerberLink sent your message from CerberLink's display.
 
Send check-in messages and drop breadcrumbs from CerberLink's keypad.
 
Made for:
• iPod touch (3rd and 4th generation)
• iPhone 4 and iPhone 3GS
 
Developed for Android based smart phones.
 
Compatible with Blackberry OS5 & OS6.
 
Alerts
Receive customized alerts based on your location that you set-up in CerberCenter.
 
Receive alerts about severe weather in your area. Don't let a storm catch you by surprise.
 
Receive alerts about geo-political events. Traveling abroad? Receive up to date news and information on the country or city you're visiting.
 
Distress
Initiate and cancel distress mode from CerberLink's keypad
 
Additional features
Use CerberLink independent of the CerberTouch app to drop breadcrumbs, send check-in messages and initiate/cancel distress mode.
 
Smaller (and better looking) than the competition.
 
Check satellite signal strength prior to sending a message.
 
Write your own CerberLink programs using the CerberLink API.
 
CerberLink's embedded antennas won't catch on something and break.
 
Designed and manufactured in the USA.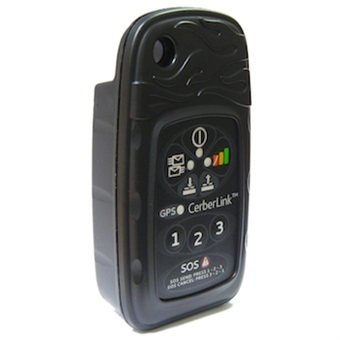 Manufacturer
PDFs
Manufacturer