< Back to Search Results
MCG-101
What Is The MCG-101?
The MCG-101 was designed to provide a the most powerful and versatile Iridium communications system to offices, remote locations, aircraft, and marine. The system provides an intelligent solution for Iridium satellite phones to operate as a telephone, Internet gateway, intelligent GPS device, send/receive SMS, and attach to other devices through RS232 or CAN bus.
The MCG-101 utilizes 100% digital technology. This enables the system to provide clear, true to life audio, and eliminates any internal echo problems. For external interface portions of the system, such an analog POTS telephone, echo cancellation is performed by a hardware echo canceler. The ASIC hardware based echo canceler is the ultimate in echo cancellation technology.
How It Works?
The MCG-101 is a wall mounted satellite terminal that contains the Iridium satellite phone. The terminal contains an internal SIM card that must be installed properly for the system to function normally. The MCG-101 also has an exposed TNC connector for attaching the required external antenna. The status of the entire system can be monitored through an attached computer or through an optional DPL handset.
Power Requirements/Specs
Power requirements 30W or 102 BTU per hourDC input voltage: 10 to 30 V DC, 3-1.2 AEnvironmental requirements Operating temperature: 32 to 113°F (0 to 45°C)Storage temperature: -13 to 158°F (-25 to 70°C)Operating relative humidity: 10 to 85% (noncondensing)Operating altitude: up to 10,000 ft (3000m)Storage altitude: up to 15,000 ft (4500m)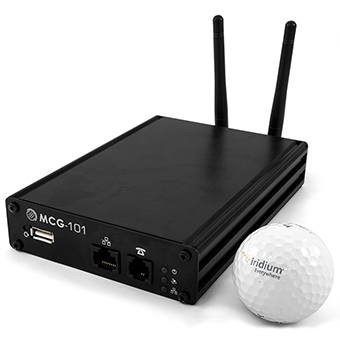 Manufacturer
PDFs