Advanced Reporting
With the wide range of reports available at your fingertips, you can cut down on costs by managing routes more efficiently, saving you on time and fuel. Find out when crews arrive at a specified destination, how long they were there, and how long till they arrived at the next location to better manage time. This will allow you to better estimate how many jobs can be done in one day, but also allow for a closely monitored approach to pay roll.
You can set automated reports to alert you when any of your vehicles go over an allotted speed. Speeding drains the fuel tank, and also your wallet. Avoid wasting fuel with risky driving. Save on fuel, and avoid traffic tickets. According to the US Department of Energy, rapid acceleration and braking lowers gas mileage by up to 33%.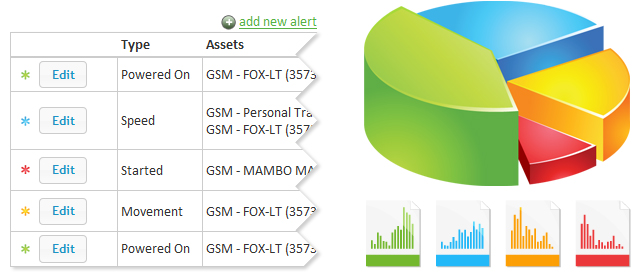 Reports can be scheduled to run at predefined times and sent to an unlimited list of e-mail addresses and cell phones, via an SMS message. Reports can also be requested online in real-time and downloaded at your own convenience. Detailed reports can be sorted and displayed according to various selected criteria or as a graph highlighting areas of importance.
Reports Available
Historic Data available for up to one year
Trip Report
Asset Location Report
Asset Movement Report
Max Altitude Report
Max Speed Report
Position Report
Activity Report
Fuel Consumption Report
Fuel Level Report
Input History Report
User Activity Report
IDP Raw Log Report
PLUS, Customize reports for your specific needs!